Are you in search of exquisite rattan baskets crafted with utmost precision? Look no further, for we are the leading Rattan Basket Manufacturer in Indonesia, dedicated to delivering exceptional quality and unique designs to customers worldwide.
Unveiling Indonesian Craftsmanship
At our core, we are artisans of rattan, utilizing traditional techniques passed down through generations. Our skilled craftsmen painstakingly weave each basket by hand, showcasing the rich heritage and artistry that Indonesia is renowned for. Every piece is a testament to our commitment to quality and authenticity.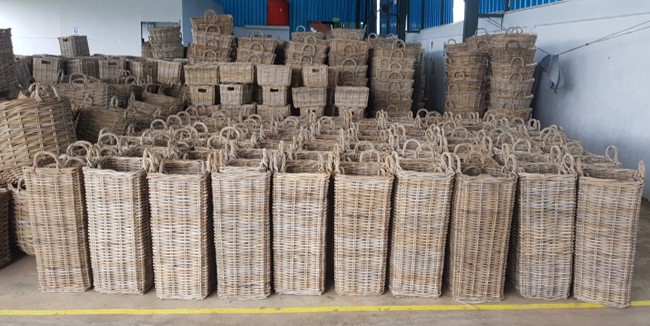 A Myriad of Designs
Our extensive range of rattan baskets caters to diverse needs and preferences. From elegant decorative pieces that infuse natural charm into any space to practical storage solutions that blend functionality with aesthetics, our baskets are a harmonious blend of form and function.
Global Reach
As a Rattan Basket Manufacturer based in Indonesia, we extend our services to customers across the globe. Whether you're in Europe, America, Asia, or Australia, our commitment to excellence knows no boundaries. We take pride in being a bridge between Indonesian craftsmanship and the world.
Sustainability at Heart
We prioritize sustainability in every step of our manufacturing process. By using eco-friendly materials and adhering to responsible practices, we ensure that our products not only enrich lives but also contribute to a greener future.
Custom Creations
Beyond our standard offerings, we specialize in creating custom rattan baskets tailored to your unique requirements. Whether it's a distinct design, specific dimensions, or a specialized order, our artisans are ready to bring your vision to life.
A Trusted Partner
When you choose us as your Rattan Basket Manufacturer, you're not just acquiring products; you're partnering with a team that's dedicated to your satisfaction. With timely deliveries, competitive pricing, and unparalleled craftsmanship, we take pride in being a name you can trust.
Elevate Your Space
Elevate your surroundings with the timeless elegance of Indonesian rattan baskets. Whether you're a retailer seeking to captivate customers or an individual looking to enhance your living space, our baskets are designed to add a touch of sophistication to any environment.
Contact Us
Embark on a journey of artistic exploration with our exquisite rattan baskets. Contact us today to explore our range, discuss your customization ideas, and place your order. Join us in celebrating the artistry of Indonesia through our finely crafted creations.
Experience the allure of Indonesian rattan through our baskets – where craftsmanship meets elegance, and tradition intertwines with modernity.